01 février 2013
Steampunk, Scrap & Cie : FEBRUARY 2013 Challenge
Coucou tout le monde !!
Alors ?? ca y est ?? ... tout le monde a repris son train-train de tout les jours ?
1er jour du mois de Fevrier et...me revoila avec mon challenge de Steampunk, Scrap & Cie.
J'ai vu que le challenge de Janvier avec ma carte a jouer vous a bien plu... ca fait tro plaisir de voir enfin bcp de vos participations en tous cas !! et je dois dire que comme j'ai vu que certaines ont achete' un paquet de cartes rien que pour essayer :)... ben alors me suis dit... '...pourquoi pas continuer hein ?
Alors ca sera un challenge qui s'etalera sur 2-3 mois ? juste assez long pour que vous vous essayez a ces cartes a jouer, bien sure, rien ne vous empeche d'en faire plusieurs :) et on finira le challenge avec une boite pour les mettre.
Pour Fevrier donc, une autre 'Carte a Jouer'
(si ca ne vous tente pas, alors une rea quelconque du moment que vous restez dans les themes du Gothic/Dark metal
MAIS avec une petite contrainte (oh une petite et puis en plus je suis gentille, j'essaye de proposer qlq choses qui est a porte' de tout le monde alors ma petite contrainte sera:
'Les perles'
(des perles normales (comme ci-dessous photo no 1... bon sur le cote' gauche ce ne sont pas vraiment des perles mais si vous en avez, pas de problemes pour les mettre :), des gouttes de perles, des macro-perles (photo ci-dessous no 2)... toutes perles sont permises !! Grosses, petites, moyennes bref !!
Hi Everyone !! 1st February and our challenge is up for the month at Steampunk, Scrap & Cie !
I was so thrilled to see that you were so many of you participating with my playing cards so I thought...hmm...why not continuing this ?
So it will be a continuous challenge over 3-4 months not too long so that you can try this out and of course, feel free to do as many as you wish !
So February challenge is 'Playing card'
(and if you feel you want to do something else, by all means as long as you keep the dark theme of my category which is 'Gothic/dark-metal)
BUT... a little condition: TO USE BEADS on your project or playing card
(all kind of beads, normal beads, macro beads (see photos below)
x
x
Perles (Beads)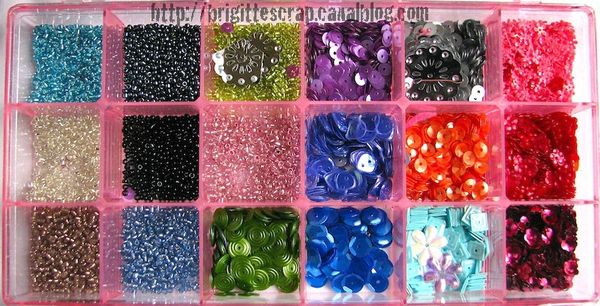 x
x
Macro-perles ci-dessous
(Below: macro-beads)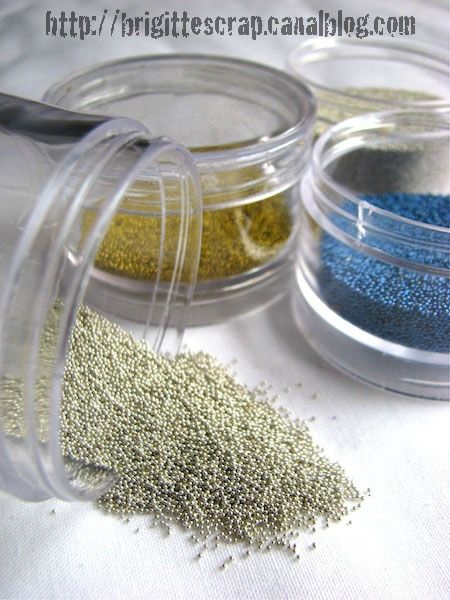 x
x
x
Ci-dessous ma carte a jouer
(J'y ai mise les perles normales et les macro-perles mais UNE sorte de perles suffira !)
Here is my playing card (I used here beads and macro-beads but ONE style of beads is fine for this challenge!:)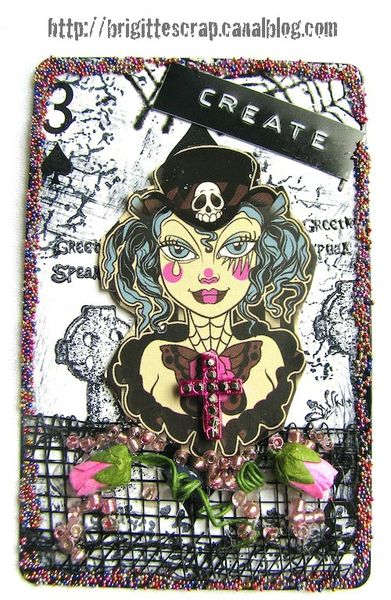 x
x
x
x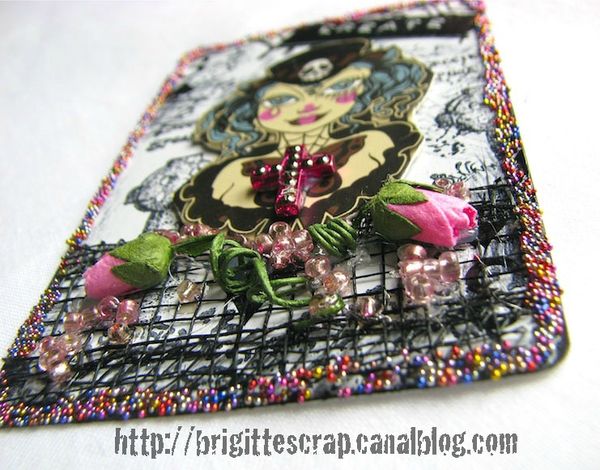 x
x
Alors ?? c'est tentant ?? allez au travail !!!
Je veux voir vos plus belles cartes a jouer !! Bon scrap et bon w-end a tous et toutes !!
So ?? Tempted ?? Do it !!
I want to see how you play with your playing cards !! Happy scrappin' and have a great w-end !!
BriGt
Commentaires
Poster un commentaire