23 janvier 2013
Playing cards/CARTES A JOUER
Bonjour tout le monde !!
Ahh ben me revoila de si tot !!??!! ben oui... a avoir retrouve' mes cartes a jouer (a scrapper), j'ai eut une envie soudaine de m'y remettre a les faire et donc... je me suis donne'e au challenge de Nicole de Steampunk, Scrap & Cie dont il fallait y faire une rea avec une couronne.
Alors me voila avec une Carte a jouer avec ma tite couronne :)
Hello there !! well..here I am again !! after finding my playing cards in my drawer and doing my playing card challenge, had an urge to keep going so... for the forum Steampunk, Scrap & Cie took up Nicole's challenge to scrap a card/layout/or OTP with a crown....
So here is my take with a playing card with a crown...
x
x
et je ne me suis pas arrete' la ! J'ai toujours voulu faire les challenges Steampunk de Cat (depuis le temps que je collecte tout les petits embellissements a cet effet...ah ben fallait bien que je commence qlq part et donc...voila une autre Carte a jouer style 'Steampunk
...couldn't stop there... I always wanted to do Cat's challenge with her Steampunk style (had collected so many bits and pieces...had to start using
them huh ?? lol !! Anyway, here is my 'Steampunk playing card'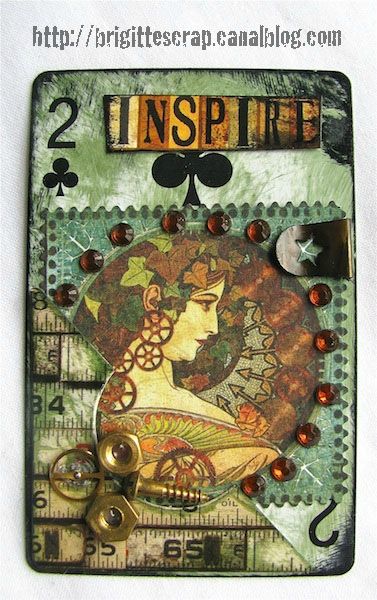 x
x
Alors ?? qu'en pensez-vous ?? Me suis eclate'e a les faire !!
Bon allez... treve de bla-bla, je vous souhaite a tous et toutes une tres bonne semaine !!
So ?? what do you think ? I had a ball doing those !
anyway... have a great week everyone !!
BriGt xx
Commentaires
Poster un commentaire