04 février 2013
Blue Baby booklet
Coucou tout le monde !!
Un petit poste pour vous montrer une petite rea que j'ai fait pour ma Gente dame Parvati pour la naissance de son petit ange 'Soen'...
Pour changer de mes reas dark...j'ai voulu evidemment faire qlq chose de special et tendre pour Soen... des petites plumes, des fleurs, des petits oiseaux... J'avais peur que ca ne ressemble un peu tro une rea de mariage mais a la fin... pour un petit bebe' garcon... je trouve que tout est permis !!
Bref voila ce que j'ai fait... tro contente du resultat et je dois dire... ca faisait un bon bout de temps que je n'avais fait qlq chose de 'so pretty' comme
dit mon amie SusanG !! (elle m'a meme dit que ca serait une rea qu'elle aurait fait !! alors pour moi c'est un compliment parce que les reas de SusanG... wow ...c'est toujours du beau !!!
Alors on commence par la couverture et ensuite les pages d'interieure
Hello there !! A new little post to show you what I've done for Parvati's newly born baby boy 'Soen'...
To change from my dark projects... of course I wanted to do something special... something sweet and soft... feathers, flowers, little birdies.... was a bit worried that it would look like a wedding thing but I guess...for a newly born baby boy.... all is allowed !
So here is a little wing wood shaped booklet, must say was so thrilled with my finished project... it's been a while that I haven't done something 'so pretty' as my friend SusanG would say (she even claims she could have done it ! so this is quite a compliment because what SusanG does always is amazingly beautiful !
Anyway, starting with the front cover of it, then inside pages....
x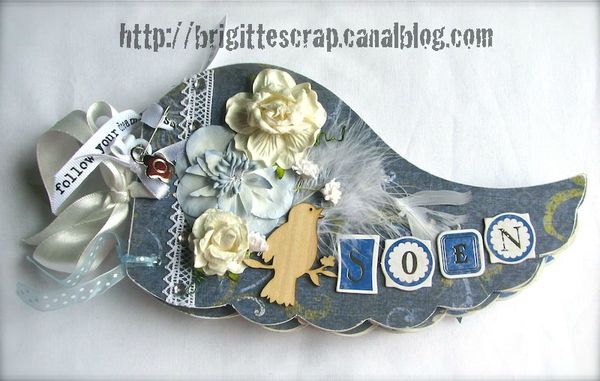 x
x
Les petits tags ou espace vide seront pour les photos ou les journallings...
Tags or empty space will be for photos or journallings...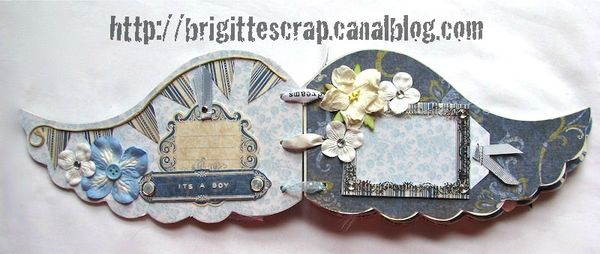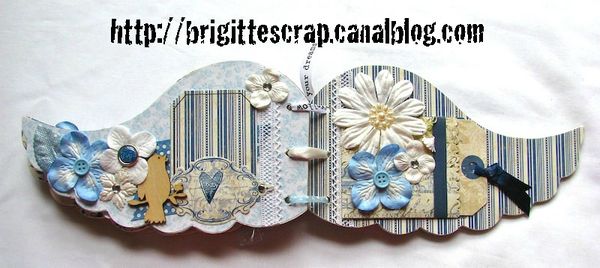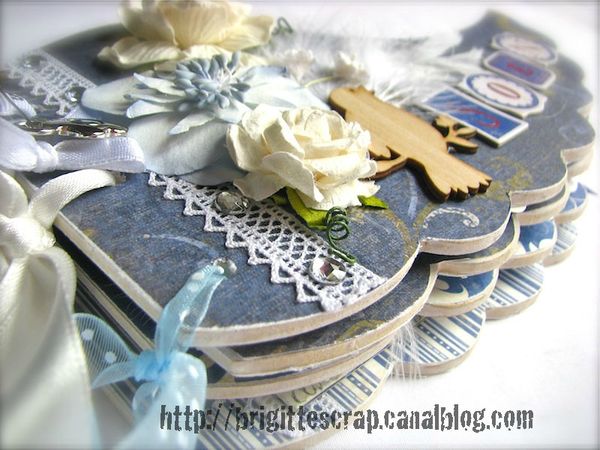 x
x
Et comme j'ai realise' que en Fevrier serait l'anniversaire de Parvati alors je lui ai aussi fait une carte assortie !!
(ahh moi qui zappe tout les anniversaires en ce moment ...manque de temps... alors j'etais plutot tres fiere de moi d'etre meme en avance!! :)
And then I realised that Parvati would have her birthday in February so... made a matching birthday card too !!
x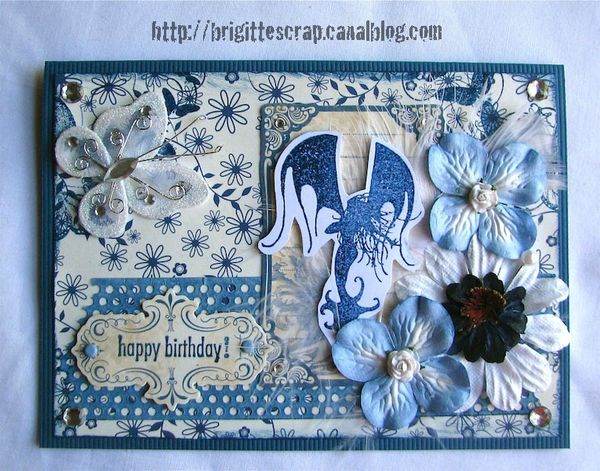 Evidemment...je me suis eclatee' a faire tout ca !! :)
Qu'en pensez-vous ??
Bonne semaine a tous et toutes !!!
Had such a ball doing these !!
what do you think ??
Have a great week everyone !
BriGt xxx
Commentaires
Poster un commentaire