01 juin 2013
Steampunk, Scrap & Cie : JUNE Challenge
Coucou tout le monde !!
Nous revoila au 1er du mois de Juin
(et chez nous en Australie... officiellement en Hiver pfffff)....
Bref.... comme challenge je vous propose cette fois-ci
une 'Carte Pop-up'
Je suis sure que de nos jours sur internet il y en aura de toutes sortes et de toutes versions mais j'ai garde' la toute simple et basic... sans chichis....
sans avoir besoin de modele/template pour ci ou ca.... juste un cutter, une regle pour mesurer et faire vos petites platformes et hop !
Un peu plus de details sur ma Pop-up sur le forum Steampunk, Scrap & Cie mais il faudra aller vous y inscrire :)
Alors voila ma Pop-up ...bien sure tout a mon style a moi...
dans la categorie 'Gothic/Dark-metal' du forum ou j'en suis une des moderatrices :)
Hello there !! Here we are...the 1st of the month of June
(and officially first day of Winter in Australia brrr... getting cold !!!)
Anyway... my challenge is up at the french forum: Steampunk, Scrap & Cie (where I am one of the team-moderator )
so for this month: Make a POP-UP CARD !!
and of course from my category 'Gothic/Dark-metal' !
(through the internet i'm sure you could find all sort of versions and style of pop-ups but ...I kept the simple and basic one... no fuss...
no template needed... just a craft knife, ruler and pen to measure and how to create your platforms for the pop-up !
The details are on the forum so...You'd need to register to get in though :)
Anyway...here is my Dark Pop-up card challenge !
Le devant... tout simple !! ..mais l'interieur....
(Front: very simple but... check out the inside !!)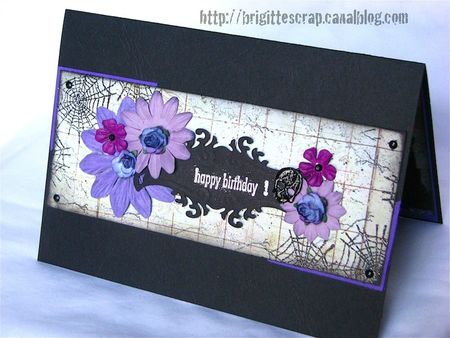 Et l'interieur quand on l'ouvre...
(the inside when you open the card)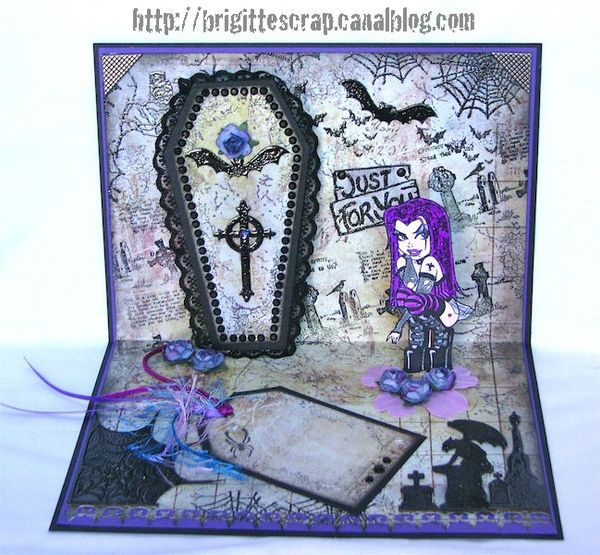 Sur le cote' pour voir un peu comment la carte se tient :)... le cerceuil est aussi sur une platforme mais comme
c'est une image plus longue, je l'ai mis plus proche de la carte.
(Photo on side to show how the card stands.. the coffin is also on a platform but because it is a longer image,
I've put it closer to the card)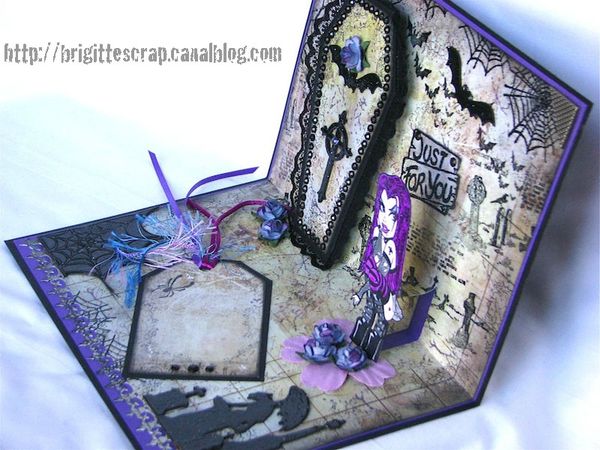 Alors ?? ca vous tente ??
Venez nous rejoindre sur le forum !!
Bon scrap a tous et toutes !!!
So ?? what do you think ? tempted to try this ?
Come and join us in the Forum HERE:)
Happy scrap !!
BriGt xx
Commentaires
Poster un commentaire