01 décembre 2012
Steampunk, Scrap & Cie : December Challenge
Coucou tout le monde !!!
Desolee...j'ai ete' super busy avec ma photographie ce mois-ci et donc...je n'ai meme pas eut un moment pour vous faire mon challenge
Alors je vous presente toutefois un de mes sketches (le dernier pour boucler mes challenges de mon Livre altere') si evidemment vous vous etes laisse' tente' par un Livre altere' sinon bien sure... une rea quelconque: carte, page ect...
Hello everyone... apologies...been super super busy these days with my photography and didn't have time to put together
my december challenge.
However, I still present you the sketch of the month (my last one to finish my altered book ...if you have done one like me of course, otherwise, use my sketch for a card or layout would be just perfect as well... Here is my sketch:
Mon sketch:
x
x
x
et... comme c'est le mois de Decembre et que c'est la fete pour tout le monde :).... a la cle' de ce challenge,
je vous offre un ensemble de chipboards que voici : (YES !!! Mes chipboards favorits que j'utilise tres souvent dans mes reas)
J'en rajouterais d'autres en passant !! :)
and to encourage you to participate AND since it's december and party month... a little gift for the challenge: those chipboards below
that i often use on my dark projects :)
Alors ?? ca vous tente ??
Bonne semaine et bon scrap a tous et toutes !!
Tempted ?? Have a great week and happy scrappin' to you all :)
****PETITE MISE A JOUR !!! voila ma rea....je l'avais presque fini mais le temps n'etait pas terrible pour la prendre en photo alors voila un ptit rayon de soleil assez timide pour un Ete'... alors j'en profite pour vite prendre une prise, j'espere qu'elle vous plaiera et
je l'offrirais aussi avec le lot a celui/celle qui remportera le challenge !! :)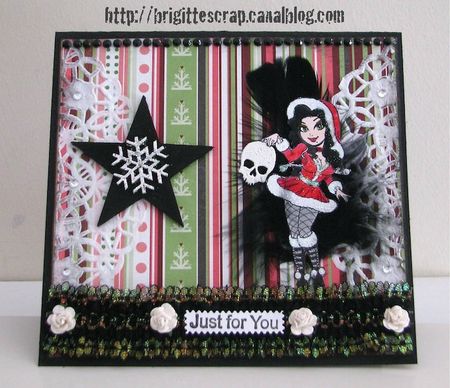 BriGt xxx
Commentaires
Poster un commentaire