01 janvier 2013
Steampunk, Scrap & Cie : JANUARY 2013 Challenge
BONJOUR TOUT LE MONDE !!!! et BONNE ANNEE 2013 !!!!!
Nous voila deja en 2013 !! oh la laaa... que de choses en 2012, mais on tourne une autre page ... et l'annee 2013 sera encore plus epatante pour tous et toutes...en tous cas je travaille dur pour ca hehehe!!!
HELLO THERE !! HAPPY NEW YEAR FOR 2013 to everyone !!!
well... here we are already in 2013.... lots of things happened in 2012, we turn the page for a new fresh one... 2013 will be even more exciting for sure...and i'm working hard at it :)
Alors c'est aussi notre rendez-vous chez Steampunk, Scrap et cie pour notre tout nouveau challenge du mois !
Je remercie tous et toutes celles qui m'ont suivi dans mon altered book, j'espere que je vous aurais bien inspire'e d'une maniere ou d'une autre quoi que vous aurez choisi de faire. Alors qu'est-ce que je vous concocte pour ce mois-ci ?
J'ai fait le menage et ressortie mes
CARTES A JOUER...
me suis dit 'hmmm.. pourquoi pas ?? mais bon... ca fait qd meme tres long de scrapper un deck de meme 32 cartes !! on a tjs tendance a abandonner avant MAIS pour ce mois-ci...j'ai decide' de juste vous en faire une (pas de contrainte... sortez juste votre matos qui vous inspire le plus... de ma part ...bien sure tres penche' sur le gothique...bon c'est mon theme aussi sur le forum hehehe!!! j'ai voulu garder tres simple... pour que l'on puisse aussi voir la carte (un peu de tampon, de la distress sur les bords, de la peinture metalise' sur les bords du cadre baroque ect..) mais bien sure, libre a vous de patouiller ou d'en faire ce que vous en voulez :).. .
Voila la mienne...
It is also our first challenge of the year and of the month at Steampunk, scrap & Cie !
Thank you to those who followed me in doing the altered book, hope i have inspired you in some many ways whatever you decided to do in your projects !
So... what have I got in store for you ? I did some cleaning and stumbled on my...
PLAYING CARDS...
...i thought...'hmmm why not ?'... I mean it gets a bit long to scrap a deck of 32 cards and we all tend to drop it but just for this month.... I decided to do one... no conditions.. just use your stash that inspire you... for my part of course... I leaned on the gothic style since it is my dedicated area for the forum, I kept it simple and wanted to show the card number underneath ect, stamped a bit, distressed the edges, rubbed some metallic paint on frame and...voila !. Here is my take on this challenge
x
x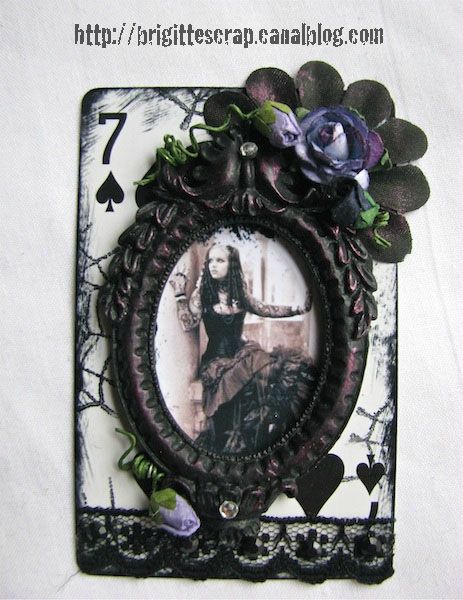 x
x
x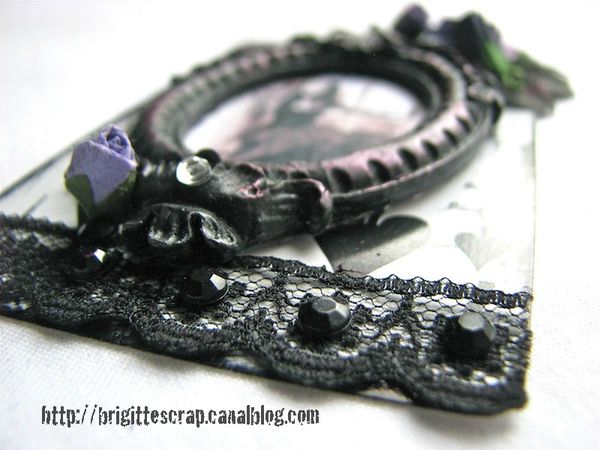 x
x
x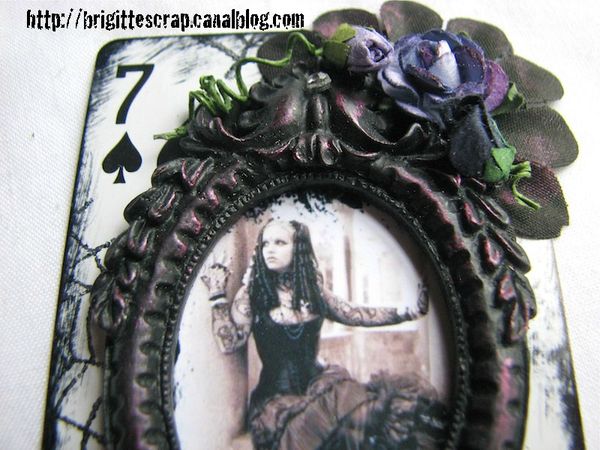 x
x
x
ALORS ?? Decembre a ete' un mois tres charge' pour tout le monde alors je garde mon challenge tres simple (comme ca...pas d'excuses hein ?? :)
A vous de jouer !!!!
Bonne continuation et bon scrap !!!
SO ??? December has been a very busy month for everyone so i kept this challenge very simple (so no excuses right ?? :)
Show me how you play with your cards !!
Happy scrappin'
BriGt xxx
Commentaires
Poster un commentaire