01 avril 2013
Steampunk, Scrap & Cie : APRIL 2013 Challenge
Coucou tout le monde !!
Deja le 1er du mois... cela a vite passe' !! En tous cas, un grand merci a toutes les participations pour notre 1er Anniversaire de
Steampunk, scrap & Cie !! ca fait plaisir de voir autant de magnifiques participations !!
Bon allez... On revient a notre challenge du mois ?? :)...
Mon 3eme challenge de Cartes a jouer, qui sera suivi le mois prochain avec un
petit tuto d'une boite pour y mettre vos cartes.
Alors je continue avec mes: CARTE-A-JOUER et avec contrainte 'Des boutons'...
Bon la aussi... pas d'excuses hein ?? on a tous/tes des boutons qui restent ou dans les tiroirs et ce que j'adore avec les boutons c'est
que tout de suite, ca donne de la dimention.
Je me permet aussi d'y mettre une technique :)
Technique: Fond Texture' (pas d'embossage!)
Allez pas tro mechante de tts manieres j'essaye tjs de vous donner des challenges a essayer mais aussi a porte'e de tous/tes.
(j'y ai mis qlqs photos pour vous guider un peu a ma manieres mais ... faites comme vous le sentez :)
(Tissu fin/papier, Compresse a gas ect... et meme un morceau de voile... juste histoire de vous donner qlqs examples et les effets que ca peut rendre.
Hello there... Here we are... 1st of the month with my new challenge from the forum Steampunk, Scrap & Cie.
We're continuing with my Playing cards challenge and this time: Buttons must be used
(no excuses right ?? too easy to find buttons in your drawers or so...
What I love about buttons is that instantly it gives dimention to a project !
Now... there's more !! I'm adding to this challenge: a technique: 'Textured background' (no embossing this time!!)
I've put some photos to guide you on my textured background but do as you please (Tissue paper, muslin, tulle whatever you fancy !!)
x
Vous aurez besoin de:La Mod-Podge (equivalent de la colle blanche ?)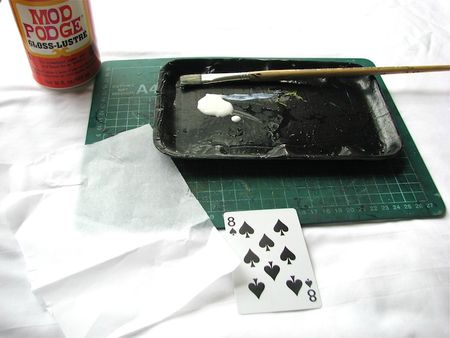 x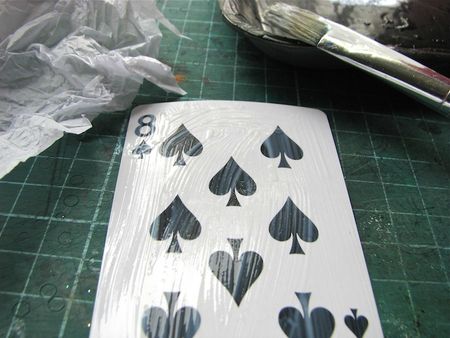 x
x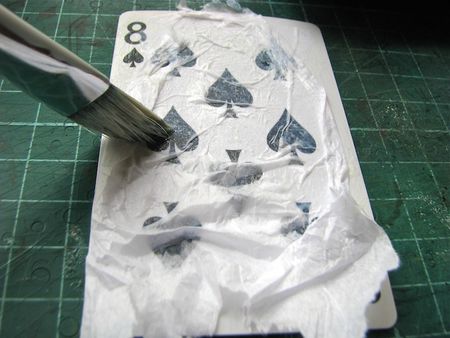 x
x
Faites exactement de meme avec la compresse a gas (Do the same as with the muslin)
x
x
et idem avec de la voile (same as well with tulle)
x
x
Mes 3 exemples ci-dessous: 1) Tissu fin, 2) Compresse a gas, 3) Voile
and VOILA !! my finished 3 samples below: 1) Tissu paper, 2) Muslin, 3) Tulle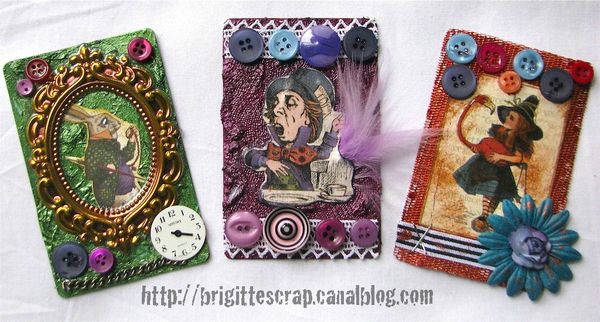 x
x
Je dois dire que ci-dessous est ma prefere'e avec du tissu fin, facile a appliquer et un effet super texture' d'un seul coup de pinceau!
I must say this one below is my fav. with tissu paper, so easy to apply and gives great texture in one go !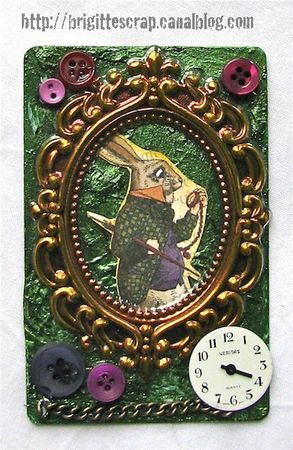 x
Bon alors ?? Vous me suivrez encore une fois ?? de tts manieres si une Carte a jouer ne vous tente pas, Une carte normale, page ou Deco fera tres bien l'affaire ...du moment que vous essayez la technique de fond Texture' et des boutons et ...que vous vous eclatez !!
Bon Scrap a tous et toutes ! et vous donne rendez-vous en May pour cloturer ce challenge en vous faisant une petite boite pour y mettre
toutes ces Cartes-a-jouer !! :)
So ?? Are you going to follow me again this time ?? Anyway,if a playing card is not your cup of tea then, make a normal card, a Layout or a Home Deco, as long as you try yourself to use the textured background, add buttons and... you have fun !!
Happy Scrappin to you all and see you next in May to close this challenge by making a box for your playing cards !
Chat soon,
BriGt xxx
Commentaires
Poster un commentaire